News
Hot Product
Contact Us
Hebei Orient Rubber & Plastic Co., LTD
E-mail: orientflex@orientrubber.com
Phone:+86-311-68008301
Skype:orientrubber
Address:ShiJiaZhuang,Hebei,China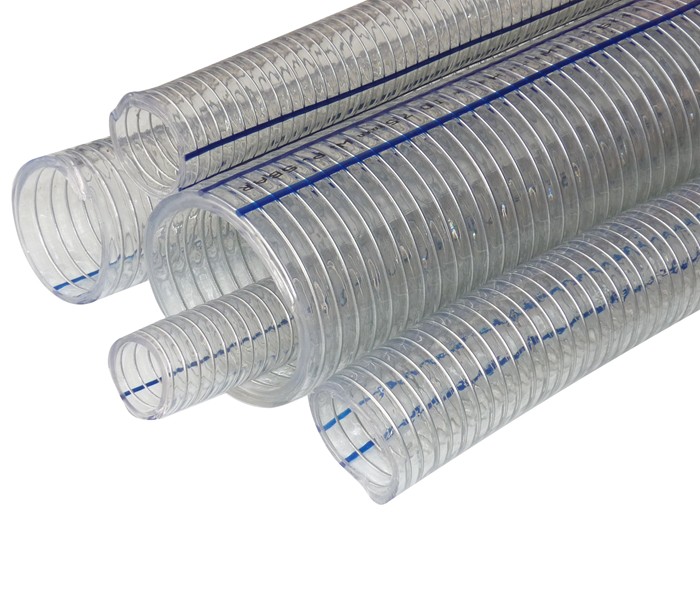 PVC wire tube, that is, we often say that the PVC steel wire reinforced hose three-layer structure, outer and inner layers of PVC soft plastic middle layer is a steel reinforced structure.
pvc steel pipe is the use of novel pvc reinforced materials, the compressive strength and hardness of the increase has been very good. In the most important steel tube has multiple modes of production, in which the steel tube market in the major types of high-pressure steel pipe, low pressure steel pipe, steel skeleton of steel pipes and tubes and other transparent several different ways in different environments, including the new the pvc wire tube is now the most widely used products.
PVC steel wire hose can be divided according to use industrial grade (special transport industrial water, oil, water, powder, chemicals, etc.) and food-grade (food factory conveyor juice, milk, drinking water, transport distillery liquor, beer , etc.), wind power, suction drainage, oil, low concentrations of chemicals and other liquid and solid particles, powdered materials. No matter coating, the substance itself must be "non-corrosive" "low concentration chemical" substances.
PVC wire tube embedded steel skeleton of PVC hose. Inside and outside the transparent wall, smooth, no bubbles, fluid delivery is clearly visible; low concentrations of acid and alkali-resistant, high flexibility, not easy to aging, long life; high pressure resistance, under high pressure vacuum can maintain the status quo.
1, high flexibility, high strength galvanized steel wire, high-quality PVC synthetic materials;
2. clear and transparent tube, good flexibility, small bending radius;
3. resistant to high negative pressure, corrosion-resistant, non-toxic materials, long life;
4. pumps used in agricultural machinery, oil depot, petrochemical equipment, industrial, mining engineering, food manufacturing and other areas of liquid, gas, oil, dust suction.